Starting your weight loss journey and disappointed to see that the treadmills of well-reputed brands have a limited user weight capacity of up to 280-300 lbs only? There's nothing to worry about because I will review all the high quality, budget-friendly, renowned, and new brands' best treadmills for 300 lbs and overweight people, and these treadmills have a user weight capacity of up to 400 lbs. My favorites are Sole F80 and 3G Cardio Pro runner treadmills.
Top 6 Best Picks: Treadmills for 300 Lbs and Heavy People
3G Cardio Pro Runner Treadmill Review: Top Pick for Avid Runners
Sole Fitness F80 – Best for Heavy Persons
Sole F63 Treadmill Review: Easy Maneuverability
XTERRA TRX5500 –  Integrated Workout Subscriptions for Free
OMA Treadmill 6134: Best for Jogging and Running
Exerpeutic TF1000 Review: Treadmill Under $600 for 350 Lbs
| Treadmills | Capacity | Belt Size | Motor | Our Assessment |
| --- | --- | --- | --- | --- |
| 3G Cardio Pro Runner | 350 Lbs | 58″Lx20.5″ W | 3.0 HP | Sturdy build, superior support. |
| Sole Fitness F80 | 350 Lbs | 60″Lx 20″ W | 3.5 HP | Expansive Deck, Unwavering Console |
| Sole F63 | 325 Lbs | 60″Lx 20″ W | 3.0 HP | Tailored for Tall, Hushed Drive |
| XTERRA TRX5500 | 350 Lbs | 60″Lx 21.6″ W | 3.25 HP | Built-In Fitness Coach |
| OMA Treadmill 6134 | 350 Lbs | 60″Lx 22″ W | 3.5 HP | Avid Runner's Choice |
| Exerpeutic TF1000 | 400 Lbs | 40″Lx 20″W | 1.5 HP | Short & Overweight? Perfect Fit |
Buying Guide — Must Have Features to Look in Treadmill for a 300lbs Person
Most of the treadmills we reviewed in the article, you'll find them expensive; the reason is that treadmills have to bear more weight. They are made with costly durable material to hold enough weight that they can't go out of order soon. They come with powerful and sturdy frames and a strong motor to provide a smooth stride experience.
Such high-end treadmills, which are built to accustom heavy-weight users, have to come with a high-efficiency motor(i.e., 2.5 hp or more) and for durability — 25-50lbs more weight capacity than a person's actual weight. So, if a person weighs 300 lbs, he must go with a treadmill having a weight capacity of 350 lbs to support his weight. It will go pricey but worth it.
Frame & Weight of Treadmill
Before making a purchase decision for a treadmill, one must consider the treadmill on which the manufacturer mentions 350lbs weight capacity and a steel frame in its built.
Steel frame is needed to bear the weight so that while running at some point, it doesn't give a cracking sound and you feel regret after.
Only once you have to put money in this machine, it'll later pay back in multiples in the form of your health.
Motor Efficiency of Treadmill
Motor efficiency is 2nd important feature you must consider before buying a treadmill.

Horsepower is the metric used to calculate the power of a motor. Mostly treadmill motors range from 2.0hp to 3.0hp.

Overweight persons weighing 300lbs should go for a treadmill with high efficiency of 3.0 HP. So that if you hop onto running at some point, the stress on the motor doesn't make this go out of order.
Good Deck Cushioning of Treadmill
Another thing that needs to be considered is that overweight people tend to get injuries in their knee or hip joints because those joints have to bear their whole body weight.
We recommend going with such treadmill, which has the best shock absorption system. This will save your knee joints from getting strained while running.
Running Deck Length
Some Cheap treadmills come with shorter deck lengths of 45-50 inches. However, all the treadmills we have enlisted have a larger deck length of over 55 inches.
We recommend going with these treadmills because if you're a 300lb overweight person and a tall one, you will require a deck of almost 60" length and 20" width for smooth running and jogging.
What Our Review Team Recommend!
Our reviewing team has rated 3G Cardio as the #1 treadmill you should consider buying.
It has all the top-end features 3.0HP motor, 350lbs weight capacity, and an orthopedic belt, which reduces the impact on your knees.
1 – 3G Cardio Pro Runner Treadmill Review
Key Specs
User Capacity: 350 lbs Motor: 3.0 HP Color: Silver Speed: 12 mph Subscription Req: No Foldable: Yes
3G Cardio is an Arizona-based US company manufacturing commercial-grade treadmills. This treadmill costs around $2k, and its price is worth it. It is a low-profile tread. One of the unique features of this company is extraordinary customer service. You call the company, and they will immediately send the local technician. The further company seems very responsive to customer questions and reviews on Amazon. 
---
Motor
This beast is equipped with a 3.0 horsepower motor, which powers the 216 lb heavy-weight tread and makes your walking and jogging experience smoother and noise free. It is one of the best treads for interval and H.I.I.T. training because its speed can only accelerate to 0.5 -12 mph in 18 seconds. 3G Cardio is mainly built for avid runners and can be used for 15 hours a day; specifically made for gyms and is also great for home use. 
Console
3G Cardio Pro runner treadmill has numerous pre-programmed (8) and 2 custom workout programs. You can speed up your pace with 0.5 mph with each click. There is no membership required. You can enjoy music for free.
On the console, there are quick speed and quick incline buttons available. There are pulse monitors (which are accurate) on the handles and an optional wireless H.R. chest belt to keep track of your heartbeat.
You cannot simultaneously view the duration of the workout and distance, which are two stats that most people like to check regularly.
Typically, all treadmill brands overlook the fan quality (adjustable speed in 3G Cardio Pro runner) and speakers; this tread has coped up so well with both. Fans at chest level are great for keeping the sweat down!
Incline
Indeed, it comes with an automated motorized incline. It has a 1-15% incline. A 30-minute workout at 3% incline and 6 mph has been my most effective combo. 
Belt
20.5" wide and 58" long belt provides enough space to run. This tread comes with large 2-inch rollers. Overall footprint dimensions are 74" and 35". Of all the treadmills I have reviewed, the pro runner has a sturdy belt, and cushioning on the deck is way comfier than Proform treads, renowned for running comfort. The folding element is excellent. Very easy to roll and move.
Speed
One of the looming issues I have observed in the folding treadmills is that they need more quality to run at a higher speed for longer distances. But with the 3G Cardio Pro runner, it isn't an issue due to its heavy-duty suspension. 
Warranty
3G cardio covers the lifetime frame warranty, 5 years on the parts, which includes the console, and 1-year labor. 
Also Read: 10 Best Treadmills Under $800.
2- Sole Fitness F80 Treadmill Review– Best for Heavy Person
Key Specs
Weight-Capacity: 350 Lbs  Motor: 3.5 HP Lifetime Warranty Incline Levels: 15 Cushion: Shock absorption deck Console: 10.1″ Screen & multi-profile support.
---
Strong and Maneuverable
All treadmills for 300 lbs and overweight or heightened individuals are specifically designed with a wider deck and long, sturdy belts. Sole F80 dimensions (L82.5″ x W38″ x H66″) are up to mark. Though heavier and more sizable than for competitors, the hydraulic foldable deck and four wheels (Unlike normal folding treadmills with 2 wheels; requires deck tilting wheels engagement) ensure easy lift-up and corner placement without overwhelming your space.
Unshakable Console & Sturdy Z- Shaped Frame 
Sole F80 handles a good amount of weight with its 350 pounds limit, which is higher than comparable models. Its new design is similar to Nordictrack's recent models and feels solid and stable. Moreover, it has a well-built z-shaped steel frame that uprights and holds the console. I have noticed that it firmly holds the console even when I am running at high speed, and the screen barely shakes as compared to the Peloton tread, which tends to vibrate at higher speeds. 
F80's horizontal handles are convenient to grab. I think it is great if you have balance or mobility issues and need something to hang on to.
High-Efficiency Motor
The motor is 3.5HP, which is the same in this new 2023 Sole F80 as in previous models. It's quiet (even at high speeds of 12mpH & 15% incline) and robust, so I recommend this treadmill for moderate to heavy use. 
The motor is a little slow to adjust the speed and incline; keep that in mind for interval training. But I love how durable and quiet it is. 
Wider Deck
The deck is pretty spacious. It is 22 inches wide and 60 inches long, which is the optimal size deck for most people. The sole F80 extended deck can easily handle the running strides. This is typically the most expansive deck that we see on folding treadmills. So it gives you much room to walk, run, and be storable. 
Firm Cushioning 
Sole F80's deck feels firm underfoot. It has its pros and cons. It is good if you are a road runner. It isn't great if you have joint issues (40% less impact than running on asphalt). Still, there's a good part that it has shock absorption in the deck to help lessen the impact on your joints, especially for heavy, tall, or gym geeks weighing up to 300 lbs/136kg. 
P.S: F80's shock absorption could be better than other brands we have tested. Overall it's suitable for road runners who habitually run on asphalt. 
Warranty
Sole Fitness F80 has an impressive lifetime frame and motor warranty. The company also includes three years of warranty for the parts. With a treadmill of such size, we recommend 2 people for setup. 
Accommodating Console
The console on the Sole F80 2023 model has been updated to include a 10.1″ touch screen (7″ in previous models). The sole comprises touch buttons on either side of the screen, speed buttons on the right, and incline buttons on the left. You can adjust the speaker's volume only on the screen (hard to adjust the volume when running).
This new model of F80 comes with a wireless charging pad underneath the screen.
Cup holders have a good size, so there's no need for a storage tray.
The incline button skips 6 and 8 % incline, so if you need to get to specific increments like 6.4 miles per hour, it could be more seamless than other models.
Tech Features in Sole Screen
One of the best features that the sole covers are that you hop on to tread, and it offers many built-in workout mode options (fat burn, cardio, hit, hill, etc.). Each workout mode has its custom preset speed (you can customize the time and speed). You also have many training options that don't require any subscriptions. Sole F80 is more versatile to appeal to a wide range of users. 
One of the most appealing features is that you can screen mirror content from your phone and see it on the sole screen. 
Inclines
Sole F80 comes with 15 incline levels. The incline is quiet on this tread. I have to look down to see if it's adjusting because it's that quiet. Overall I'm impressed with the efficiency of Sole F80.
3 – Sole F63 Treadmill Review
Key Specs
Weight Capacity: 325 Lbs Motor: 3.0 HP Foldable: Yes Warranty: Lifetime on frame and motor
Sole F63 is one of my top-rated treadmills for treadmills under $1000. The treadmill has an exceptional weight capacity. Tread weighs around 254 pounds, but it has a user weigh-limit up to 325 lbs. This machine is excellent for walking and jogging. It is a perfect treadmill with side arm speed and incline buttons. It is straightforward to assemble in less than an hour, and I'd recommend using some help because it is heavy and sturdy..
---
Features of Sole F 63
Construction
Sole F63 is 35 inches wide, 82″ long, and 57″ height to the top of your tablet holder. Track length 60 inches (plenty big enough for someone tall 6'2″ +) and 20 inches wide belt. F63 got 9″ step over height. 
Powerful Motor
One of the great features incorporated by the company is its 3.0 horsepower motor, which is an add-on for a tread that costs below $1k. The quiet motor delivers a speed of up to 12 mph and an incline of up to 15%.
Cushion
You have a whisper flex cushioning underneath the deck to mitigate the impact while jogging. Also, a double-ply belt with a good texture gives you a good hold when walking. 
Warranty
Sole Fitness F63 offers a three-year warranty on electronics parts and deck, which makes it evident that this tread is heavily built and has a one-year labor warranty—moreover, a lifetime warranty on the frame and motor. 
Console
You have a 6.3″ backlit display (not a touch screen). On the screen, you can look at your pace, incline, calorie, pulse, time, distance, and speed, and also display your workout mode. 
This console gives you a limited number of use profiles (two only) to save your progress. Remember to grab your tablet because the display is straightforward with limited functionalities because the adjustable tablet holder firmly holds the device. The console also features a USB port to charge your phone or tablet.
If you want to choose heart rate mode, wear the chest strap to sync with the heart rate program. This heart rate strap tracks well with my Fitbit watch.
Incline
Below the console screen of Sole F63, you can find the incline button to increase or decrease it; pressing the button once to change the incline for one position. Pushing the speed button for once raises the speed by 0.1mph. 
I agree that the jump from 5 mph to 7 mph seems to be a significant gap and would very much like to have seen a six mph button and possibly a way to jump by 0.5 mph increments but with the controls on the handle, you can get there pretty quickly, it is the best part. 
One note, though, when the tread inclines, the handles do not, so the higher you incline, the lower the handles go. It is okay if you bend over a little while incline and want to hold the rails.
Bottom Line
Overall Sole F63 is an excellent value for money. Getting a tread with premium features like better weight capacity and foldability is hard to find under $1k.
4 – XTERRA TRX5500 –  Integrated Workout Subscriptions for Free 
Key Specs
Weight Capacity: 350 lbs, Accessories: Silver Pulse Grips on Left handrail, Chest Strap Monitor for heartbeat Motor: 3.25 hp /Lifetime warranty, Foldable: Yes
Recently we've seen a lot of interest from users in subscription workout programs integrated into treadmills which allows you access to workouts and follow-on with instructors for classes. What if — you don't want to spend your bucks on a subscription? Here comes the XTERRA TRX5500.
XTERRA TRX5500 has onboarded integrated content for workouts that can run without Wi-Fi. Features like preloaded apps(i.e., Netflix) can turn your training into a binge-worthy joyride!
Embrace spacious comfort with dimensions of 77.2 "D x 35.5" W x 56.2 "H, designed to accommodate even the bulky ones up to 350lbs individuals, making your treadmill experience truly exceptional.
---
Efficient 3.25hp motor
I have experienced the seamless joy of the TRX 5500's high-torque 3.25 hp motor, effortlessly allowing me to run with an uninterrupted flow. Whether pushing the pace or accelerating the speed up to 12 mph, XTERRA TRX5500 ensures a smooth and quiet running experience.
Console Display Elements
The Marvellous 10.1″ touchscreen display, almost the size of a tablet, ensures you can see all your workout stats clearly while exercising. You can hide these stats to make the screen clear for Netflix or YT. I didn't want to hide these; they are pretty much on the side, not interfering with your screen experience.
Customizable Workout Programs
Its 10.1″ touchscreen display will not let you get bored through its preloaded apps like Netflix, abc news, Hulu, CNN, Fox News, and many more. 
Preloaded 30 customizable workout programs ensure you don't miss out on a day of your health and keep running. These workout programs are completely customizable; you can set your running time, max speed to test your limits, etc.
Adjust Workout Modes 
There are two modes in this versatile machine. 
Custom mode that allows you to adjust speed and incline levels throughout the jog.
Customizable workout mode will let you define your goals, like how much time you want to work out and the optimal speed and incline while running. You can adjust all this quickly.
Robust Construction
Its robust construction feature of foldability combines space-saving elegance with effortless mobility, making it a versatile addition to any home. This foldable also makes relocation of this beast very easy.
The solid and sturdy steel frame makes it durable. The heavy-built structure is not allowing the machine to shake while running.
Additional Benefit
Although it doesn't come with subscription workout programs, it does allow you to connect to favorite subscription programs like iFit, Zwift, Kinomap, and a lot more.
Compared to NordicTrack 1750, extra soft cushioning makes your jog smoother. 
5 – OMA Treadmill 6134: Best for Avid Runners
Key Specs
Belt Width: 21.625" (Actual) Foldable: Yes Weight Capacity: 350lbs Motor: 3.5 HP Wheels: 2 Colors Available: Black 
One of the critical factors that OMA Treadmill took into consideration is a 22″ wide, 60″ long belt  (most heavy guys always go for wider belt treadmills, obviously with greater weight capacity) and sturdy frame that can't be overlooked when looking for treadmills for 300 lbs or heavy people and avid runners.
---
Avid Runner Choice
If you're an avid runner 5-6 days a week, this treadmill is for you; it doesn't shake while running (up to 12.4 mph speed). It has Sturdy handles. Also, the auto incline works well, along with the rate. The deck is quiet and smooth. Also, nobody is willing to overlook the quiet motor, which is pretty great about OMA 6134. Furthermore, You can keep track of your heart rate as well. When doing the workouts, it might show a little less than the actual. 
Assembly Time
As the product weight (231 lbs) and its build show that OMA 6134 is a commercial-grade sturdy treadmill for a big guy, it takes 2 to assemble it. This tread took me 1.5 hours to assemble, which is different from the company's stated time (20 min). 
Cushioning System: 
OMA 6134 treadmill comes with six shock-absorbing cushions so that running feels light and keeps your joints safe from any discomfort while jogging or running on the deck at a high pace. 
Foldable
The treadmill is easy to lift and fold when you're done with your workout. So it is space savvy as well (55.2″ x 36.4″ x 69.7″ when folded) if you have a little room for this machine to keep. To unfold it (75.8″ x 36.4″ x 69.7″ size when unfolded) takes a little push but uplifting is way easier. Moving this tread might seem challenging because it has only two wheels, unlike sole treadmills.
Massive Console
One of the unique features, which is hard to find with treadmills under two grand budgets, is a massive console. OMA tread comes with a 23″ dot matrix screen with quick buttons. The console features three modes and 43 programs, and three task-based countdown programs with time, distance, and calories. Moreover, 3 Custom Interval Programs are based on speed and incline to simulate different landforms. It has little Bluetooth-supported speakers, which are ok like all the treadmills feature them.
P.S.: Don't write this one off just because it doesn't have a fancy brand name. It's absolute quality!
6. Exerpeutic TF1000 Review: Treadmill Under $600 for 350 Lbs
Key Specs
Weight Capacity: 400 Lbs Motor: 1.5 HP high torque motor Wheels: 2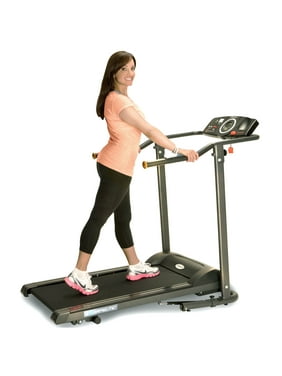 High quality, value-oriented price, easy assembly, high user weight capacity (up to 400 lbs) &widended belt makes Exerpeutic TF1000 a top pick in budget treadmills as it comes assembled in the box. It only requires you to install the monitor console. It is a motorized electric treadmill (the motor moves the belt instead of power generated by your feet). It is a heavy-duty (steel frame) treadmill with a weight limit of 400 Lbs, which is a premium feature.
---
Belt Size
Exerpeutic TF1000 has a 20 inches wider and 40 inches long belt, similar to commercial fitness club-size treadmills. This tread can prove helpful for heavy people with weights up to 400 Lbs, but belt length may impede the workout performance of tall guys. Side rails are wide for a foot platform when needed.
Incline
Exerpeutic TF1000 has a 2-position manual incline, and it is easily changeable to enhance the intensity level of your workout. 
Motor
I know motor power is less than the treadmills, which I have reviewed earlier in this article. But surprisingly treadmill is quiet when walking briskly, so there is no interference with your TV or music. 
Console
This treadmill comes with a bit of LCD featuring the function of workout time; distance walked, calories burned, and speed. You can find the control buttons on the handle to adjust the speed from 1-4 mph for vigorous workouts (0.1 mph increments). This tread is overall better for heavy people to walk or slightly jog.
Exerpeutic tread has Eighteen inches long safety handles (longer than treadmills in low budget range).
Furthermore, there is a pulse monitor to check heart rate at any time and stay in the target heart rate zone. 
The console lets you access the functions when you have the safety key attached. 
Warranty
Exerpeutic TF1000 is built to last with a five-year limited motor warranty, a one-year frame warranty (you save $100), and 90 days warranty on parts and labor, which means you can buy it with confidence. Paying less doesn't mean that you're compromising on quality. 
Conclusion
When looking for a treadmill with high weight limits, it becomes tough to find a great one because you are not left with many options. The majority of well-known treadmill brands target people with average body weight.
It would help if you didn't worry about anything because we have covered all the high-end treadmills for 300lbs, overweight, and heightened people. Here at fitness gears hub, our team votes the 3G Cardio as the best choice and well-suited for extended weight limits.
FAQ.
What to Look for In A Treadmill for a 300 lbs Person?
You've to Pick a treadmill 25-50 lbs above user's weight, heavy duty motor (2.5 HP+), long and wider belt (58″*20″ or above is recommended).
Which Treadmill Meets All the Requirements for 300 Lbs Person?
3G Cardio Pro Runner—comes with a 3 HP motor, 350 lbs weight capacity, 58″*20.5″ belt, 5 years frame warranty & exceptional customer support.
Hello,
This is Safeer Ahmad founder of FitnessGearsHub. I'm an aspirant fitness freak, I commenced my career as a blogger and I opted for "gym and fitness" as my primary domain. As all fitness gears fancy me, I spend considerable time on research before buying one, I believe a health fanatic should be mindful of the product before making buying decision so I'll try my level best to provide you ample information to buy one or maintain your gym equipment.